Hållbar design med biobaserade material
Sustainable design with bio-based materials
(Scroll down for English)
Vår konsumtion av produkter, deras tillverkningsprocesser och de material de är gjorda av har stor påverkan på miljö och klimat. Förutom att minska negativ miljöpåverkan, kan hållbar design och biobaserade material öppna upp för nya affärsmöjligheter, ge konkurrensfördelar och skapa innovativa designlösningar.
I takt med att de negativa effekterna blir allt tydligare skärps lagstiftningen kring materialanvändning och producentansvar införs på allt fler produkter och materialslag. EU driver på omställningen till cirkulär och biobaserad ekonomi, och kraven på hållbara produkter och material ökar från både offentlig sektor och konsumenter.
I detta perspektiv, och för att kunna hjälpa våra kunder att utveckla hållbara och attraktiva produkter, kändes det självklart att öka kunskapen kring material som biobaserad plast, biokomposit, textil och papper. Därför var vi med på Biolyftets utmärkta 2-dagarsutbildning och blev uppdaterade med det senaste inom materialutveckling, teknikutveckling inom återvinning, system för insamling och återbruk mm.
Design och biobaserade material
Typ av material och dess egenskaper har självklart stor påverkan på design och produktutformning. Funktionellt och tekniskt måste man konstruera utifrån materialets förutsättningar, men även estetiska och känslomässiga hänsyn måste tas. Till exempel kan biokompositer ha en annan ytstruktur och taktil känsla, och designar man med papper som ska ersätta plast behöver man beakta känslan av stabilitet och täthet.
Vad är hållbar materialanvändning?
Design för funktion som ger verkligt värde.
Använd material så resurssnålt som möjligt.
Designa produkten för lång livslängd.
Gör produkten möjlig att underhålla, reparera och återanvända.
Gör produkten demonterbar för att möjliggöra effektiv återcirkulering av material. Försök eliminera risk för materialläckage och nedskräpning.
Vad kännetecknar ett hållbart material?
Lågt bidrag av koldioxid (CO2)
Förnyelsebar/ biobaserad råvara (vid nytillverkning)
Återvinningsbart
Återvunnen råvara
Utfasning av skadliga ämnen
Låg inverkan på ekosystem och miljö
Inspirerande exempel
Biobaserad och återvunnen plast
Papper ersätter plast
Om BioLyftet
BioLyftet är en utbildning för att höja kunskapen om och öka användandet av biobaserade och återvunna material. Efter utbildningen ska företaget ha en plan med aktiviteter för att praktiskt prova och utvärdera hållbara material i sina produkter. Utbildningssatsningen BioLyftet riktas till små och medelstora företag som praktiskt vill börja använda biobaserade, återvunna och återvinningsbara material i sina plast- och textilprodukter.
Mer information och presentationerna från utbildningen hittar ni här: https://www.bioinnovation.se/projekt/biolyftet/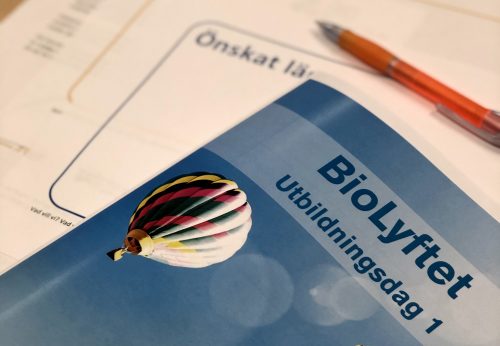 ENGLISH
Our consumption of products, their manufacturing processes and the materials they are made of have a great impact on the environment and climate. In addition to reducing the negative environmental impact, sustainable design and bio-based materials can open up new business opportunities, provide competitive advantages and create innovative design solutions.
As the negative effects become increasingly clear, the legislation on material use and producer responsibility is being introduced on more and more products and materials. The EU is pushing for the transition to a circular and bio-based economy, and demands for sustainable products and materials are increasing from both the public sector and consumers.
In this perspective, and in order to help our customers develop sustainable and attractive products, it felt obvious to increase our knowledge about materials such as bio-based plastics, bio-composite, textiles and paper. That is why we participated in Biolyftet's excellent 2-day training and were updated with the latest in material development, technology development in recycling, collection and recycling systems, etc.
Design and bio-based materials
The type of material and its properties obviously have a great influence on product design. Functionally and technically, one must construct based on the material's conditions, but also aesthetic and emotional considerations must be taken into account. For example, bio-composites can have a different surface structure and tactile feel, and if you design with paper to replace plastic, you need to consider the feeling of stability and tightness.
What is sustainable material use?
Design for function that provides true value.
Use material as resource-efficient as possible.
Design the product for long life.
Enable the product to be serviced, repaired and reused.
Make the product possible to dismantle, to enable efficient recycling of materials. Try to eliminate the risk of material leakage and debris.
What characterizes a durable material?
Low carbon dioxide (CO2) contribution
Renewable/ bio-based raw material (in new production)
Recyclable
Recycled raw material
Phasing out harmful substances
Low impact on ecosystems and environment
Inspiring examples
Bio-based and recycled plastic
Paper replaces plastic
About BioLyftet
BioLyftet is a training to increase knowledge and use of bio-based and recycled materials. After the training, the company will have a plan with activities to practically test and evaluate sustainable materials in its products.The BioLyftet education initiative is aimed at small and medium-sized companies that want to start using bio-based, recycled and recyclable materials in their plastic and textile products.
You can find more information and presentations from the education here: https://www.bioinnovation.se/projekt/biolyftet/